On December 12, at 5:00pm, the LPA East of Hinatuan, Surigao del Sur (inside the PAR) developed into a tropical depression and was named "URDUJA". It has a maximum sustained winds of up to 55 kph near the center and gustiness of up to 65 kph as it moves in a North Northwest direction at 6 kph.
On December 13, "URDUJA" slightly changed its course as it continues to move close to Sorsogon-Northern Samar area around 5:00 pm. Tropical Cyclone Warning Signal (TCWS) no. 1 was raised over the Province of Eastern Samar.
At 2:00 pm of December 14, "URDUJA" has intensified into a Tropical Storm (TS) as it continues to move towards Samar provinces. At 8:00 pm, TS Urduja remains almost stationary and continues to bring damage over Eastern Visayas.
TS Urduja has slightly intensified as it continues to move slowly off the eastern coast Samar Island on December 15.
At 1:30 pm of December 16, TS Urduja made landfall over San Policarpio, Eastern Samar.
On December 17, at 8:00 am, "Urduja" weakened into a Tropical Depression and is now over the Samar sea. TCWS No. 2 has been lifted. TD Urduja changed its course and heading towards Aklan. It has made landfall over Malay, Aklan. It has maintained its strength and is now approaching the Cuyo Islands.
At 04:00 am of December 18, Urduja has passed in the vicinity of Cuyo Islands and is now moving towards Palawan.
As of 5:00AM December 19, TD Urduja maintained its strength while continues to travel over the West Philippine Sea.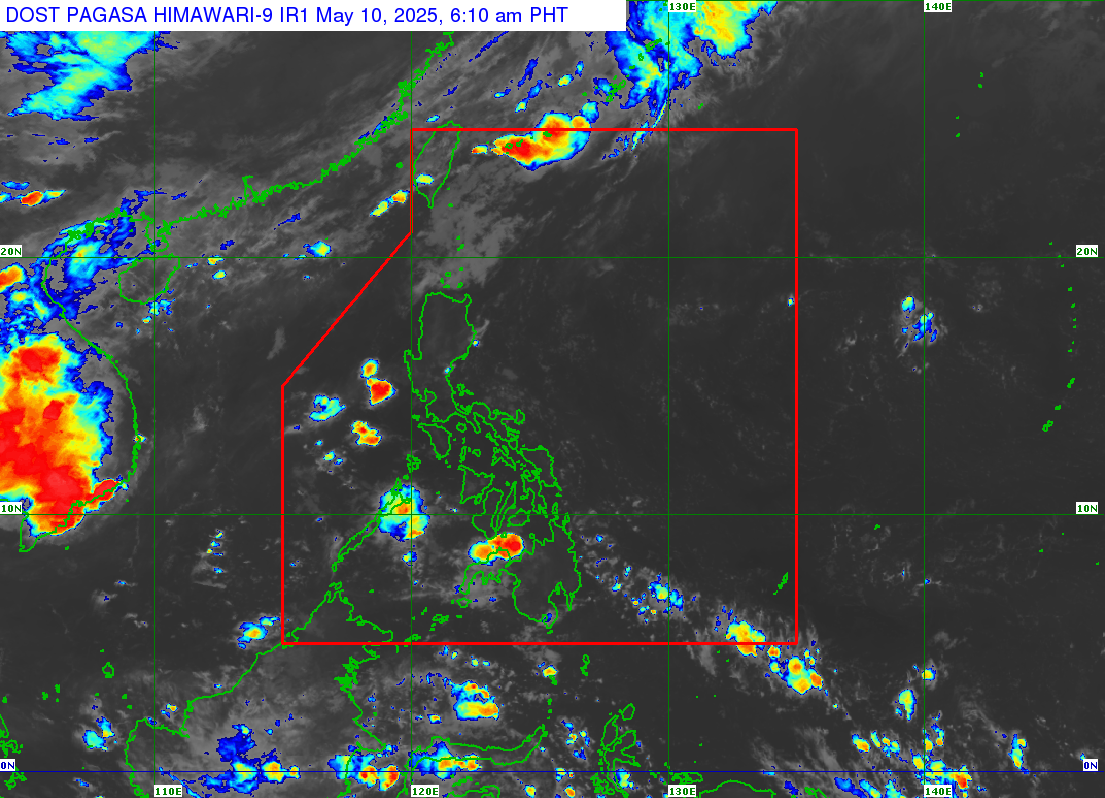 SOURCE: PAGASA
PROFILE / DATA / STATUS
| | | | | |
| --- | --- | --- | --- | --- |
| DATE | TIME | POSITION | MOVEMENT | STRENGTH |
|  19 December 2017 |  1000H |  At 10:00 AM today, the center of Tropical Depression "URDUJA" was estimated based on all available data at 430 km East West Northwest of Puerto Princesa City, Palawan (OUTSIDE PAR)(10.4 °N, 114.9°E) |  West Southwest at 18 kph |  Maximum sustained winds of up to 45 kph near the center and gustiness of up to 60 kph |
|  19 December 2017 |  0400H |  At 04:00 AM today, the center of Tropical Depression "URDUJA" was estimated based on all available data at 240 km West Northwest of Puerto Princesa City, Palawan (10.2 °N, 116.6°E) |  West Southwest at 18 kph |  Maximum sustained winds of up to 45 kph near the center and gustiness of up to 60 kph |
|  18 December 2017 |  2200H |  At 10:00 PM today, the center of Tropical Depression "URDUJA" was estimated based on all available data at 145 km West Northwest of Puerto Princesa City, Palawan (10.2 °N, 117.5°E) |  West Southwest at 18 kph |  Maximum sustained winds of up to 45 kph near the center and gustiness of up to 60 kph |
|  18 December 2017 |  1600H |  At 4:00 PM today, the center of Tropical Depression "URDUJA" was estimated based on all available data at 120 km North Northwest of Puerto Princesa City, Palawan (10.5 °N, 118.0°E) |  West Southwest at 18 kph |  Maximum sustained winds of up to 45 kph near the center and gustiness of up to 60 kph |
|  18 December 2017 |  1000H |  At 10:00 AM today, the center of Tropical Depression "URDUJA" was estimated based on all available data at 90 km North Northwest of Puerto Princesa City, Palawan (6.6 °N, 139.8°E) |  West at 18 kph |  Maximum sustained winds of up to 45 kph near the center and gustiness of up to 60 kph |
|  18 December 2017 |  0700H |  At 07:00 AM today, the center of Tropical Depression "URDUJA" was estimated based on all available data in the vicinity of Dumaran, Palawan (10.6 °N, 119.6°E) |  West at 18 kph |  Maximum sustained winds of up to 55 kph near the center and gustiness of up to 75 kph |
|  17 December 2017 |  2200H |  At 10:00 PM today, the center of Tropical Depression "URDUJA" was estimated based on all available data at 50 km Northeast of Cuyo, Palawan (11.2 °N, 121.3°E) |  West Southwest at 17 kph |  Maximum sustained winds of up to 55 kph near the center and gustiness of up to 65 kph |
|  17 December 2017 |  1900H |  At 07:00 PM today, the center of Tropical Depression "URDUJA" was estimated based on all available data in the vicinity of Buruanga, Aklan (11.8 °N, 121.9°E) |  West Southwest at 15 kph |  Maximum sustained winds of up to 55 kph near the center and gustiness of up to 80 kph |
|  17 December 2017 |  1600H |  At 04:00 PM today, the center of Tropical Depression "URDUJA" was estimated based on all available data at 65 km South of Romblon. Romblon (12.0 °N, 122.3°E) |  West Southwest at 15 kph |  Maximum sustained winds of up to 55 kph near the center and gustiness of up to 80 kph |
|  17 December 2017 |  1300H | At 01:00 PM today, the center of Tropical Depression "URDUJA" was estimated based on all available data at 65 km East Southeast of Romblon, Romblon (12.4 °N, 122.8 °E) | West at 15 kph | Maximum sustained winds of 55 kph near the center and gustiness of up to 90 kph |
|  17 December 2017 |  1000H | At 10:00 AM today, the center of Tropical Depression "URDUJA" was estimated based on all available data in the vicinity of Mobo, Masbate (12.3 °N, 123.7 °E) | West Southwest at 15 kph | Maximum sustained winds of 55kph near the center and gustiness of up to 90 kph |
|  17 December 2017 |  0700H | At 07:00 AM today, the center of Tropical Depression "URDUJA" was estimated based on all available data at 50 km Southwest of Catarman, Northern Samar (12.2 °N, 124.3 °E) | West at 15 kph | Maximum sustained winds of 60 kph near the center and gustiness of up to 90 kph |
|  17 December 2017 |  0400H | At 4:00 AM today, the center of Tropical Depression "URDUJA" was estimated based on all available data in the vicinity of Calbayog City, Samar (12.2 °N, 124.8 °E) | West at 13 kph | Maximum sustained winds of 65 kph near the center and gustiness of up to 110 kph |
|  17 December 2017 |  0100H | At 01:00 AM today, the center of Tropical Depression "URDUJA" was estimated based on all available data in the vicinity of San Jose de Buan, Samar (12.1 °N, 125.0 °E) | West at 13 kph | Maximum sustained winds of 65 kph near the center and gustiness of up to 110 kph |
|  16 December 2017 | 2200H | At 10:00 PM today, the center of Tropical Storm "URDUJA" was estimated based on all available data in the vicinity of San Jose de Buan, Samar (12.1 °N, 125.1 °E) | West at 13 kph | Maximum sustained winds of 65 kph near the center and gustiness of up to 110 kph |
|  16 December 2017 |  1900H | At 07:00 PM today, the center of Tropical Storm "URDUJA" was estimated based on all available data in the vicinity of San Jorge, Samar (12.0 °N, 124.8 °E) | West at 15 kph | Maximum sustained winds of 75 kph near the center and gustiness of up to 120 kph |
|  16 December 2017 |  1600H | At 04:00 PM today, the center of Tropical Storm "URDUJA" was estimated based on all available data at in the vicinity of San Jose de Buan, Samar (12.1 °N, 125.1 °E) | West at 15 kph | Maximum sustained winds of 75 kph near the center and gustiness of up to 120 kph |
|  16 December 2017 |  1300H | At 01:00 PM today, the center of Tropical Storm "URDUJA" was estimated based on all available data at In the vicinity of San Policarpio, Eastern Samar (12.2 °N, 125.3 °E) | West at 15 kph | Maximum sustained winds of 80 kph near the center and gustiness of up to 110 kph |
|  16 December 2017 |  1000H | At 10:00 AM today, the center of Tropical Storm "URDUJA" was estimated based on all available data at 75 km North Northeast of Borongan City, Eastern Samar or 120 km East Southeast of Catarman, Northern Samar (12.2 °N, 125.7 °E) | West at 15 kph | Maximum sustained winds of 80 kph near the center and gustiness of up to 110 kph |
|  16 December 2017 |  0700H | At 07:00 AM today, the center of Tropical Storm "URDUJA" was estimated based on all available data including Guiuan Doppler Radar at 125 km East Northeast of Borongan City, Eastern Samar (12.2 °N, 126.4 °E) | West Northwest at 10 kph | Maximum sustained winds of 80 kph near the center and gustiness of up to 95 kph |
|  16 December 2017 |  040H | At 04:00 AM today, the center of Tropical Storm "URDUJA" was estimated based on all available data including Guiuan Doppler Radar at 180 km East Northeast of Borongan City, Eastern Samar (12.1 °N, 127.0 °E)) | West Northwest at 10 kph | Maximum sustained winds of 80 kph near the center and gustiness of up to 95 kph |
|  16 December 2017 |  0100H | At 01:00 AM today, the center of Tropical Storm "URDUJA" was estimated based on all available data at 215 km East of Borongan City, Eastern Samar (11.8 °N, 127.4 °E) | West Northwest at 7 kph | Maximum sustained winds of 75 kph near the center and gustiness of up to 90 kph |
|  15 December 2017 | 2200H | At 10:00 PM today, the center of Tropical Storm "URDUJA" was estimated based on all available data at 240 km East of Borongan City, Eastern Samar (11.8 °N, 127.6 °E) | West Northwest at 7 kph | Maximum sustained winds of 75 kph near the center and gustiness of up to 90 kph |
|  15 December 2017 |  1900H | At 07:00 PM today, the center of Tropical Storm "URDUJA" was estimated based on all available data at 240 km East of Borongan City, Eastern Samar (11.7 °N, 127.6 °E) | Northwest at 5 kph | Maximum sustained winds of 75 kph near the center and gustiness of up to 90 kph |
|  15 December 2017 |  1600H | At 04:00 PM today, the center of Tropical Storm "URDUJA" was estimated based on all available data at 240 km East of Borongan City, Eastern Samar (11.8 °N, 127.6 °E) | Northwest at 5 kph | Maximum sustained winds of 75 kph near the center and gustiness of up to 90 kph |
|  15 December 2017 |  1300H | At 01:00 PM today, the center of Tropical Storm "URDUJA" was estimated based on all available data at 230 km East of Borongan City, Eastern Samar (11.7 °N, 127.5 °E) | Northwest at 5 kph | Maximum sustained winds of 75 kph near the center and gustiness of up to 90 kph |
|  15 December 2017 |  1000H | At 10:00 AM today, the center of Tropical Storm "URDUJA" was estimated based on all available data at 240 km East of Borongan City, Eastern Samar (11.6 °N, 127.6 °E) | Northwest at 5 kph | Maximum sustained winds of 75 kph near the center and gustiness of up to 90 kph |
|  15 December 2017 |  0700H | At 07:00 AM today, the center of Tropical Storm "URDUJA" was estimated based on all available data at 205 km East Borongan City, Eastern Samar (11.6 °N, 127.3 °E) | Northwest at 5 kph | Maximum sustained winds of 75 kph near the center and gustiness of up to 90 kph |
|  15 December 2017 |  040H | At 04:00 AM today, the center of Tropical Storm "URDUJA" was estimated based on all available data at 205 km East Borongan City, Eastern Samar (11.5 °N, 127.3 °E)) | Northwest at 5 kph | Maximum sustained winds of 75 kph near the center and gustiness of up to 90 kph |
|  15 December 2017 |  0100H | At 01:00 AM today, the center of Tropical Storm "URDUJA" was estimated based on all available data at 115 km East Northeast of Guiuian, Eastern Samar (11.3 °N, 127.1 °E) | Northwest at 5 kph | Maximum sustained winds of 65 kph near the center and gustiness of up to 80 kph |
|  14 December 2017 | 2200H | At 10:00 PM today, the center of Tropical Storm "URDUJA" was estimated based on all available data at 140 km East of Southeast of Guiuan, Eastern Samar (11.1 °N, 127.0 °E) | Northwest at 6 kph | |
|  14 December 2017 |  1900H | At 07:00 PM today, the center of Tropical Storm "URDUJA" was estimated based on all available data at 85 km East Southeast of Guiuan, Eastern Samar (10.7 °N, 126.4 °E) | West at 7 kph | Maximum sustained winds of 65 kph near the center and gustiness of up to 90 kph |
|  14 December 2017 |  1600H | At 04:00 PM today, the center of Tropical Storm "URDUJA" was estimated based on all available data at 85 km East Southeast of Guiuan, Eastern Samar (10.7 °N, 126.4 °E) | West at 7 kph | Maximum sustained winds of 65 kph near the center and gustiness of up to 90 kph |
|  14 December 2017 |  1300H | At 01:00 PM today, the center of Tropical Storm "URDUJA" was estimated based on all available data at 90 km East Southeast of Guiuan, Eastern Samar (10.8 °N, 126.5 °E) | West at 7 kph | Maximum sustained winds of 65 kph near the center and gustiness of up to 80 kph |
|  14 December 2017 |  1000H | At 10:00 AM today, the center of Tropical Storm "URDUJA" was estimated based on all available data at 120 km East of Guiuan, Eastern Samar (11.0 °N, 126.8 °E) | West at 7 kph | Maximum sustained winds of 60 kph near the center and gustiness of up to 80 kph |
|  14 December 2017 |  0700H | At 07:00 AM today, the center of Tropical Storm "URDUJA" was estimated based on all available data at 140 km East of Guiuan, Eastern Samar (11.0 °N, 127.0 °E) | West at 10 kph | Maximum sustained winds of 55 kph near the center and gustiness of up to 65 kph |
|  14 December 2017 |  040H | At 04:00 AM today, the center of Tropical Storm "URDUJA" was estimated based on all available data at 175 km East Northeast of Guiuan, Eastern Samar (11.2 °N, 127.3 °E) | West at 8 kph | Maximum sustained winds of 55 kph near the center and gustiness of up to 65 kph |
|  13 December 2017 |  2200H | At 10:00 PM today, the center of Tropical Storm "URDUJA" was estimated based on all available data at 295 km East Northeast of Guiuan, Eastern Samar (11.2 °N, 128.4 °E) | North Northwest at 7 kph | Maximum sustained winds of 55 kph near the center and gustiness of up to 65 kph |
|  13 December 2017 |  1600H | At 04:00 PM today, the center of Tropical Storm "URDUJA" was estimated based on all available data at 395 km East of Guiuan, Eastern Samar (11.2 °N, 129.3 °E) | Northwest at 7 kph | Maximum sustained winds of 55 kph near the center and gustiness of up to 65 kph |
|  13 December 2017 |  1000H | At 10:00 AM today, the center of Tropical Storm "URDUJA" was estimated based on all available data at 405 km East of Guiuan, Eastern Samar (10.9 °N, 129.4 °E) | West at 7 kph | Maximum sustained winds of 55 kph near the center and gustiness of up to 65 kph |
|  12 December 2017 |  2200H | At 10:00 PM today, the center of Tropical Depression "URDUJA" was estimated based on all available data at 415 km East Northeast of Hinatuan, Surigao del Sur (9.5 °N, 129.9°E) | North Northwest at 6 kph | Maximum sustained winds of up to 55 kph near the center and gustiness of up to 65 kph |
|  12 December 2017 |  1600H |  At 04:00 PM today, the center of Tropical Depression "URDUJA" was estimated based on all available data at 480 km East Northeast of Hinatuan, Surigao del Sur (9.3 °N, 130.6 °E) |  North Northwest at 6 kph |  Maximum sustained winds of 55 kph near the center and gustiness of up to 65 kph |
ERP
SEVERE WEATHER BULLETIN
SITUATION REPORTS (SITREP)
ADVISORIES
WEATHER ADVISORY
DAMS
CANCELLED FLIGHTS

DATE
LIST OF CANCELLED FLIGHTS
 13 Dec 2017
According to the Facebook post of MIAA, Cebu Pacific cancelled the following flights:

5J 321/322 Manila-Legazpi-Manila
5J 821/822 Manila-Virac-Manila
5J 901/902 Manila-Caticlan-Manila
5J 905/906 Manila-Caticlan-Manila
5J 891/892 Manila-Caticlan-Manila
5J 375/376 Manila-Roxas-Manila
DG 6031/6032 Manila-San Jose-Manila
DG 6111/6112 Manila-Naga-Manila

DG 6243/6244 Manila-Caticlan-Manila

DG 6247/6248 Manila-Caticlan-Manila

DG 6366/6367 Manila-Roxas-Manila

2P 2981/2982 Manila-Tacloban-Manila
2P 2203/2204 Manila-Roxas-Manila
2P 2921/2922 Manila-Legazpi-Manila
2P 2043/2044 Manila-Caticlan-Manila
2P 2041/2042 Manila-Caticlan-Manila
2P 2053/2054 Manila-Caticlan-Manila
Z2 715/716 Manila-Kalibo-Manila
Z2 711/712 Manila-Kalibo-Manila
Z2 709/710 Manila-Kalibo-Manila
Z2 219/220 Manila-Caticlan-Manila
Z2 221/222 Manila-Caticlan-Manila
Z2 223/224 Manila-Caticlan-Manila

M8 715/716 Manila-Busuanga-Manila
DG 6041/6042 Manila-Busuanga-Manila
DG 6055/6056 Manila-Busuanga-Manila
DG 6113/6114 Manila-Naga-Manila
DG 6117/6118 Manila-Naga-Manila
DG 6177/6178 Manila-Masbate-Manila
DG 6073/6074 Manila-Tablas-Manila

5J 339/340 Manila-Kalibo-Manila

5J – Cebu Pacific
DG – CebGo
2P – PAL Express
Z2 – AirAsia Zest
SEA PORTS

SUSPENSION OF CLASSES

LIST OF CLASS SUSPENSIONS
18 October 2017ALL LEVELS:
Region IV – B
1. Oriental Mindoro
2. Calapan CityKINDER TO SENIOR HIGH SCHOOL (K-SHS):
Region IV – B
o Baco, Oriental Mindoro
o Socorro, Oriental Mindoro
o Palawan
o Romblon
RESPONSE ACTIONS
RESPONSE TIMELINES
RESPONSE MAP